Blog Home
Trendy House Plants Perfect for Any Space
One of the easiest tricks in the book when it comes to refreshing a living space is adding an indoor plant! House plants are a wonderful way to increase the natural oxygen flow in your home, add a pop of color, spruce up a boring space, and really just liven up any room in your apartment. Now more than ever, house plants have become a design style trend. Seriously, type in #HousePlants on Instagram and you'll find over 3 million posts! And it's with good reason. An indoor house plant makes adorable apartment decor and can have a ton of character. Let's take a look at a few trendy house plants that we think would make great additions to your Acero Cooley Station apartment!
Fiddle Leaf Fig
Given their recent surge in popularity, you could find a beautiful fiddle leaf fig tree (also known by its technical name, Ficus Lyrata) pretty much anywhere these days. The Gilbert Home Depot, the Walmart Garden Center and without a doubt the local Desert Horizon Nursery should have this decorative house plant in their plant inventory. The fiddle leaf fig can get to be a very large tree, with big, beautiful leaves that can add a ton of personality to any room. This house plant is commonly placed in living or bedroom corners, rounding out the room with it's soft and bubbly leaves.
Maintenance: Prefers dry soil, plenty of direct sunlight and humid environments.
Pro Tip: Rotate your fiddle leaf fig once a month to keep it standing straight and tall.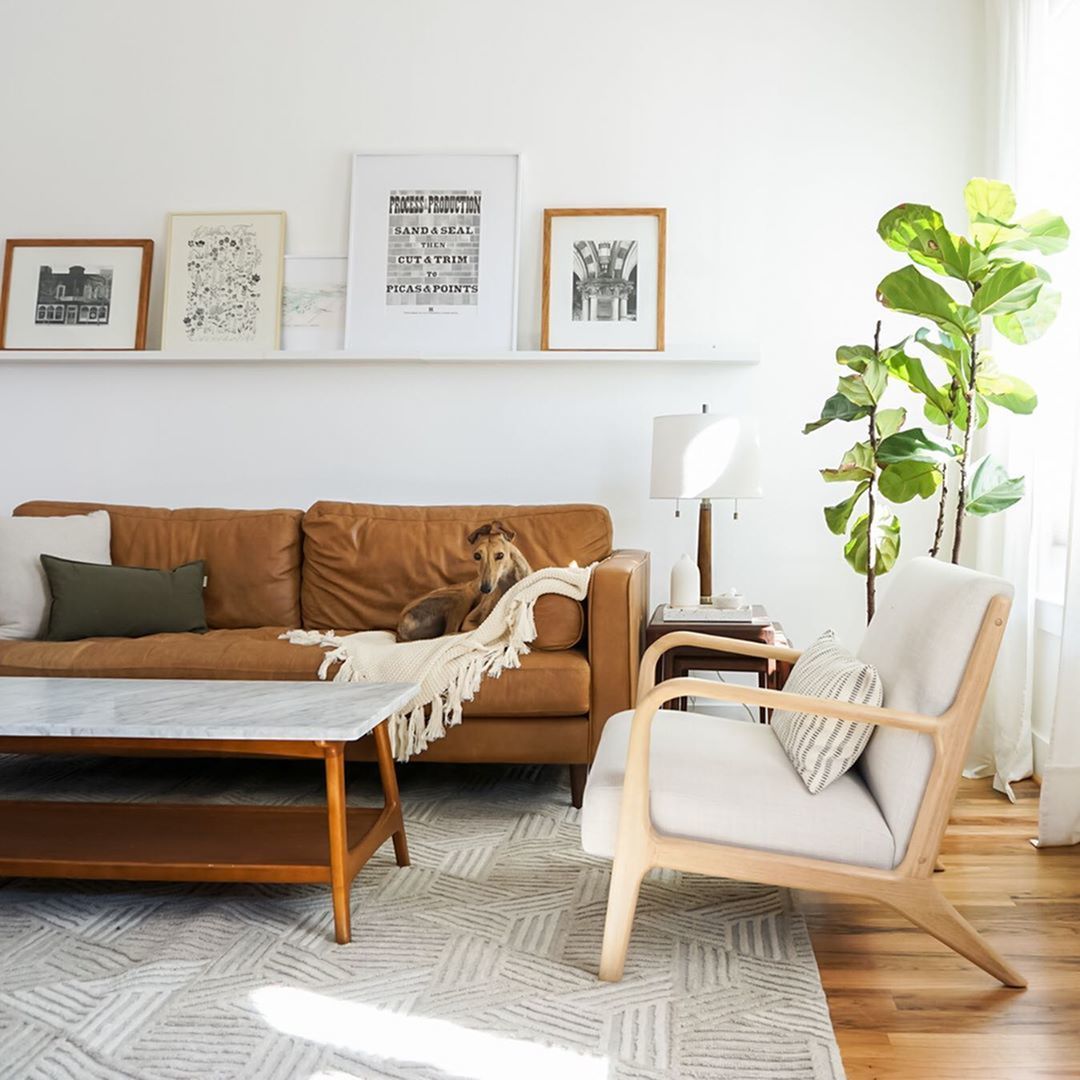 (Photo by @Collected_eclectic)

Snake Plant
The snake plant is a beloved, trendy house plant for many reasons; its unique posture and variety of styles, its range of sizes, and of course, the fact that it's nearly impossible to kill. Even the worst of plant parents can find success in owning and maintaining a snake plant (also known as mother-in-law's tongue, George's sword, or by its formal name, Sansevieria Laurentii). Is this why it's such a trendy house plant right now? Maybe. But it's also because this house plant looks adorable in just about any pot or container you have it in, and it brings a very sleek, modern look to any room.
Maintenance: Thrives in bright light, but can still survive in low light. Prefers dry soil.
Pro Tip: Water once every 10 days and wipe the stocks occasionally to remove dust.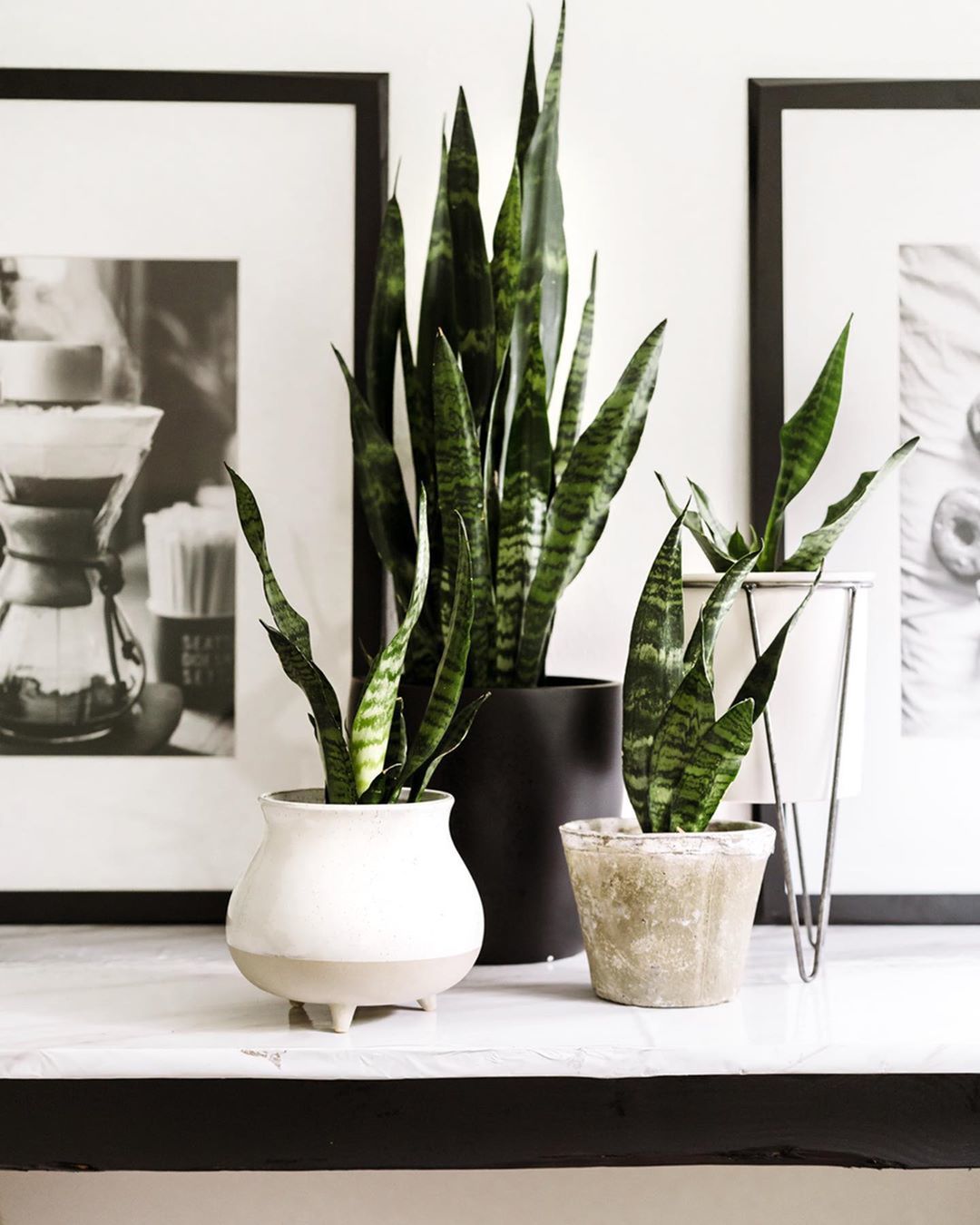 (Photo by @Stylushco)

Rubber Plant
Similarly adored for its unique variations, rubber plants come in many different shapes, sizes, and colors. Whether you're looking to add a dark contrast to a bright room or bring some subtle colors to a space, the rubber plant (Ficus Elastica) is a great way to do it. The burgundy rubber plant is a bit more common, boasting a deep purple color and large, sleek leaves. A less common but equally aesthetic (and trendy) variety is the burgundy rubber plant's cousin, the variegated ruby rubber plant. This little character has pink and white camouflage-like markings that make a statement in any room of the house. While a common house plant to find, the more uniquely colored rubber plants can require a bit more of a search.
Maintenance: Prefers bright, indirect light and moderately moist soil.
Pro Tip: Mist your rubber plant's leaves for added shine and moisture.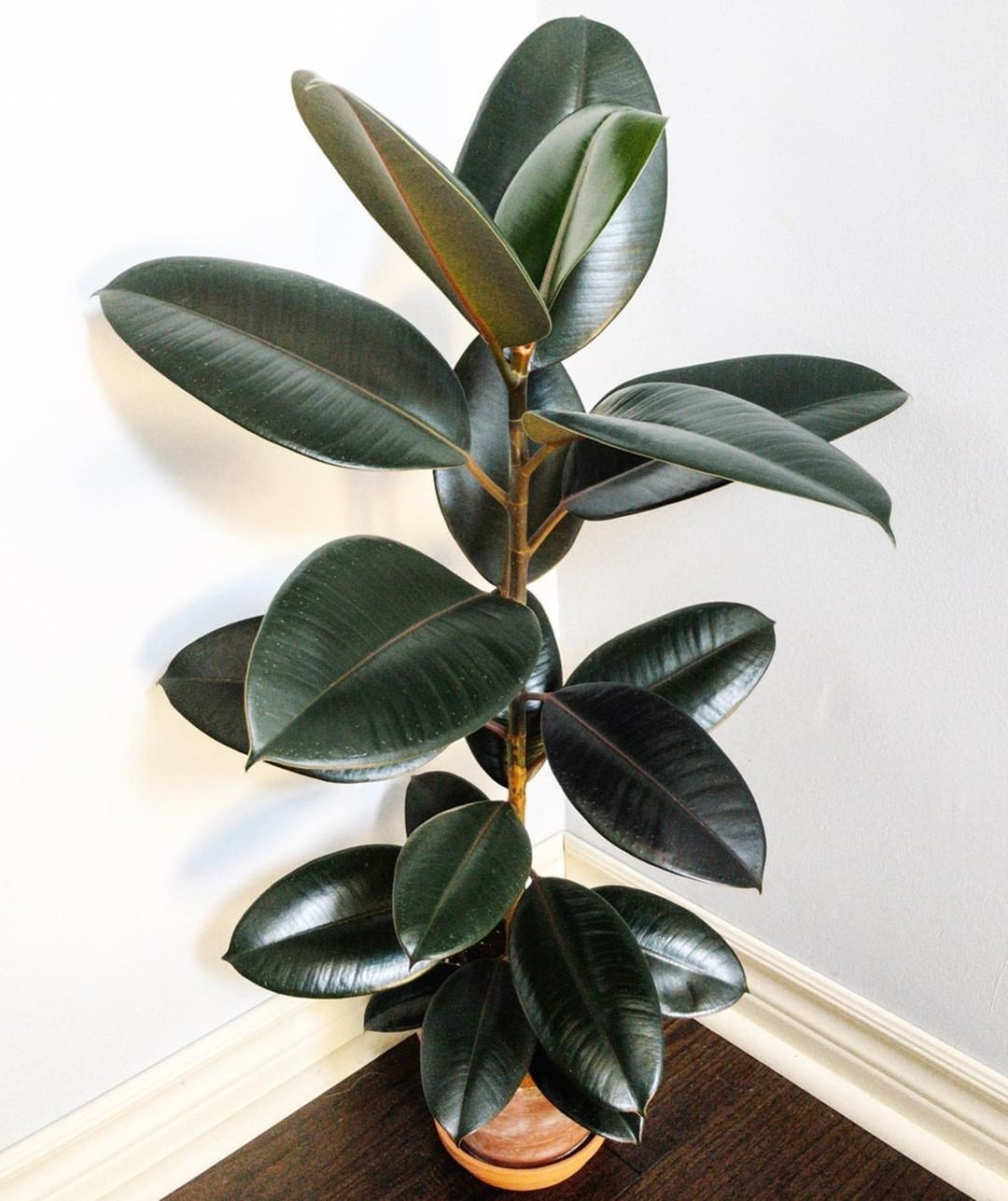 (Photo by @thebotanicalgarden.in)

These trendy house plants are popular for a reason; they make wonderful home decor and are fun to pick out, pot and take care of. Plus, they're easy to maintain! Even if you lack a green thumb, these hearty plants can usually handle it. And if you can't keep them alive but still want the decor, you can usually find fake versions of them too! Try adding one (or all) of these beautiful house plants to your Acero Cooley Station apartment, and show us how they look on Facebook or Instagram! While you're at it, be sure to keep following our blog, here. See you next time!