There's no doubt about it, living in Gilbert, Arizona means looking forward to warm days adventuring through the valley of the sun with your four-legged friend. However, living in Gilbert also means those "warm" days can quickly turn into triple-digit days where the temperatures are hardly bearable for both you and your dog. We know it's tempting to grab the leash and head outside to enjoy the beauty of our community, but when the summer months roll around and the temperatures continue to rise, there are some important pet-parenting decisions to make. Keep these pet-owner tips in mind the next time you're thinking about heading out with your dog!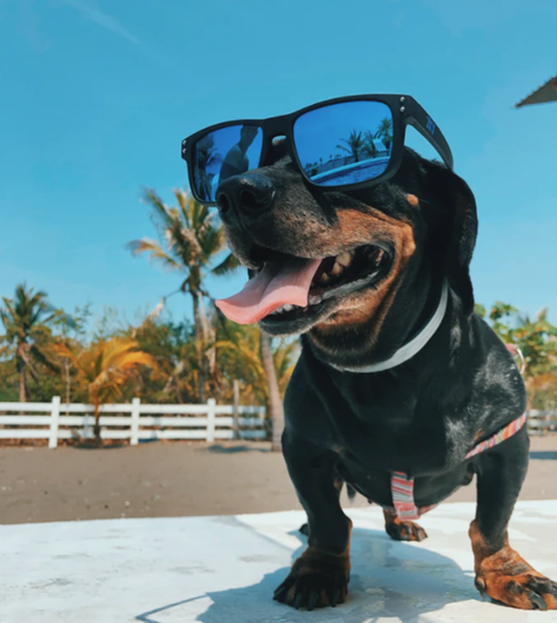 Keep Your Pet Indoors
We know you probably don't want to hear this, but if it's a sunny afternoon here in Gilbert and the temperature is rising with each hour, the best advice for keeping your dog safe and cool is simply keeping them home and indoors. Put your Acero Cooley Station apartment air conditioning to good use and keep your fur baby cool and comfortable. Sometimes the best thing dog owners can do is say "Sorry little one" and leave the leash, and your pup, at home.
Have Plenty of Fresh Water
If, however, you do decide to venture outdoors with your tail-wagging companion when it's warm out, be sure to have plenty of fresh water on hand. Pro tip: always bring more than you think you will actually need! This is the best way to be prepared. Unlike us humans, your four-legged best friend has a coat of fur that they can't exactly "take off" when the sun comes out. This means it's extra important to keep them hydrated and their internal body temperature as cool as possible while outside in the heat. This is one of the best ways to keep your pup from overheating in the hot Arizona summer weather.
Know Your Pet
A dog is a man's best friend, so it's no doubt you know all about them. Their breed, age, general health, etc.; these are all important things to consider when it comes to heading outdoors in the summer heat! Similar to humans, the young, the old, and those with health conditions are extra sensitive to heat, so when deciding if your pup needs to join you on today's outdoor adventure, keep those determining factors in mind.
Protect Your Pet's Paws
Let's say you left your Cooley Station apartment for a morning walk with the dog around 7 or 8 a.m. when the temperatures were just right. Then, a couple of miles and a few hours later, the sun has risen and is beating down right on you and your furry friend. Dog paws are not invincible, and just like we need shoes, they need protection as well! A thoughtful investment if your pup is outdoors often in the Arizona heat is paw booties. Think of these as shoes for your dog, protecting them from the scorching hot pavement. If you live in the valley of the sun, with a dog whose puppy eyes make them too hard to leave at home, we recommend getting a pair of paw booties to help keep your pet safe from pavement burns.
Pay Attention to the Time
It can be easy to lose track of time while outdoors with your dog. One minute you're out enjoying the day in Gilbert, then before you know it, it's warmer outside than you expected and your pup looks exhausted. When determining if you're bringing your dog with you, pay extra attention to when and where you plan to be. Typically the coolest part of the day during the summer months is the early morning, with warm daytime temperatures sticking around late into the night. So be sure to check various weather apps to have an idea of what the temperatures will be before you leave home with your dog! And, as we are confident you already know, never, ever leave your dog in the car. If it's expected to get hot, and you don't know when you will be home, it's best to just leave your furry pal in your cool, air-conditioned Acero Cooley Station apartment.
We know those puppy dog eyes can make it hard to leave your dog at home when the sun comes out. But when you live in Gilbert, sometimes that is the best thing you can do for your furry companion. Keep these pet owner tips in mind as the temperatures continue to rise, and be sure to share this blog on Facebook or Instagram with your fellow pet parents! If you found this blog helpful, stay tuned for more like it, here.